Alaska's contribution to Puget Sound economy: $6.2 billion
Alaska and Puget Sound share a dynamic and diverse economic relationship strengthened by shipping, seafood, petroleum, and tourism.
The Seattle Metropolitan Chamber of Commerce contracted with McDowell Group to analyze the economic impact of Alaska on Puget Sound in 2013. This is the fourth report in a series started in 1985, repeated roughly every decade.
Alaska's economic relationship with Puget Sound accounted for 113,000 jobs in the region, and $6.2 billion in labor earnings, in 2013. The sectors accounting for the largest percentage of Alaska-related jobs were services at 26,500 jobs (23 percent), seafood at 23,900 jobs (21 percent), and trade at 19,100 jobs (17 percent). Alaska-related economic activity in Puget Sound fell into two categories: exportrelated and natural resource-related. Alaska's "export value" to Puget Sound is the value of all goods and services Puget Sound businesses provide to households, businesses, and industry in Alaska. In 2013 those exports were valued at approximately $5.4 billion, resulting in 74,000 jobs. Economic activity related to Alaska's natural resources include those resulting from commercial fishing, seafood processing, petroleum, and tourism. These resource - related sectors accounted for 39,300 jobs and $2.3 billion in earnings.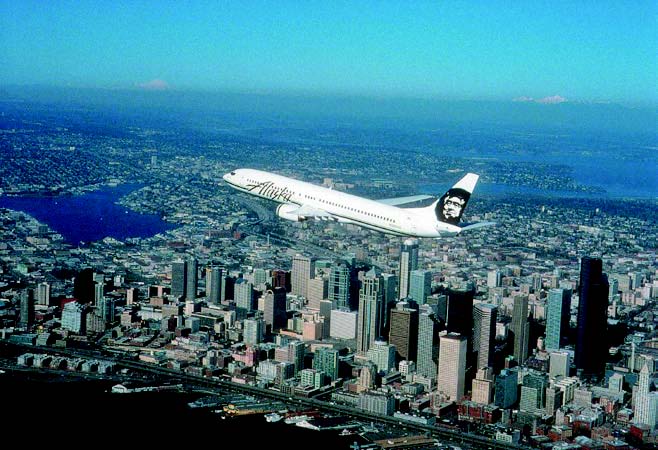 Photo Courtesy Alaska Airlines
Between 2003 and 2013, Alaska-related jobs in Puget Sound increased from 103,500 to 113,300, an increase of nine percent. Labor earnings have also increased, from $4.3 billion to $6.2 billion. While this represents an increase of 44 percent in nominal terms, actual growth was 12 percent after adjusting for inflation.
In 2013, over 3.4 million tons of cargo moved between Puget Sound and Alaska, nearly all (97 percent) via water. Of all this cargo movement, 80 percent is transported north, while 20 percent is transported south.
Between 2009 and 2013, trade with Alaska accounted for over 80 percent of domestic containerized shipments through the Ports of Seattle and Tacoma, and 20 percent of total containerized shipments.
Puget Sound residents own nearly 1,000 commercial fi shing vessels participating in Alaska commercial fi sheries. Puget Sound's 36 seafood processing companies accounted for 82 percent of total first wholesale value of Alaska seafood production in 2013. Alaskarelated commercial fi shing created 10,150 jobs and $600 million in labor earnings in Puget Sound in 2013.
The study revealed that Alaska supplies nearly half (46 percent) of all crude oil refi ned in Puget Sound. Puget Sound's fi ve refi neries receive 265,000 barrels of Alaska crude oil per day. An estimated 12,000 Puget Sound jobs and $780 million in labor earnings are connected with refi ning Alaska oil.
Puget Sound hosts over 430,000 Alaska cruise passengers annually.